---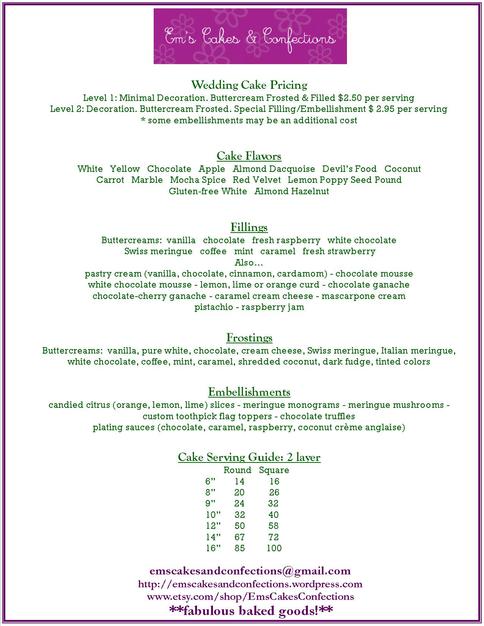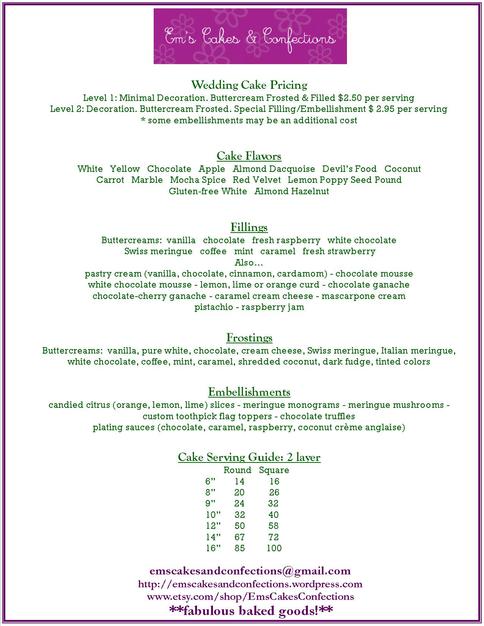 ---
Our Wedding Themes & Styles
Hello! I'm Emily, Emcee of Ingredients for Em's Cakes & Confections. If you need a handmade, slightly over-the-top, sometimes boozy, always amazing dessert – we're your place. Em's specializes in tiered layer cakes (round or square) in various sizes to accommodate any number of guests. We also love putting together dessert tabl... (read more)
---
Packages
Wedding Cake Pricing
Level 1: Minimal Decoration. Buttercream Frosted & Filled $2.50 per serving
Level 2: Decoration. Buttercream Frosted. Special Filling/Embellishment $ 2.95 per serving
* some embellishments may be an additional cost
Cake Flavors
White Yellow Chocolate Apple Almond Dacquoise Devil's Food Coconut
Carrot Marble Mocha Spice Red Velvet Lemon Poppy Seed Pound
Gluten-free White Almond Hazelnut
Fillings
Buttercreams: vanilla chocolate fresh raspberry white chocolate
Swiss meringue coffee mint caramel fresh strawberry
Also…
pastry cream (vanilla, chocolate, cinnamon, cardamom) - chocolate mousse
white chocolate mousse - lemon, lime or orange curd - chocolate ganache
chocolate-cherry ganache - caramel cream cheese - mascarpone cream
pistachio - raspberry jam
Frostings
Buttercreams: vanilla, pure white, chocolate, cream cheese, Swiss meringue, Italian meringue, white chocolate, coffee, mint, caramel, shredded coconut, dark fudge, tinted colors
Embellishments
candied citrus (orange, lemon, lime) slices - meringue monograms - meringue mushrooms - custom toothpick flag toppers - chocolate truffles
plating sauces (chocolate, caramel, raspberry, coconut crème anglaise)
Cake Serving Guide: 2 layer
Round Square
(guests served)
6" 14 16
8" 20 26
9" 24 32
10" 32 40
12" 50 58
14" 67 72
16" 85 100
---
Reviews
Rating Summary
Quality of Service (5.0/5)
Recommended
100%
by couples who reviewed
3 Reviews
Kelly Ksiazek-Mikenas

10 months ago

Quality of Service (5.0/5)

Em's Cakes and Confections was so amazing and I am happy to provide a 5-star recommendation! Emily was wonderful to work with and really took the time to listen to what my fiance and I were looking for. We knew we didn't want a super-expensive fondant-wrapped tower that looked nice but didn't taste good. No, we were looking for something that looked like an actual cake and tasted delicious. If this is what you're looking for too, Em's is it! We actually got 3 separate cakes so our guests could pick their favorite flavor and they were all absolutely beautiful and SO yummy. Chocolate with peanut butter buttercream, vanilla with fresh strawberry buttercream, and graham cracker cake with key lime icing... is your mouth watering yet? Our guests' were. We got so many compliments on how amazing the cakes tasted and beautiful they were, decorated with fresh fruits and flowers.
In addition to a great product, the real "icing on the cake" is working with a vendor who is friendly, skilled, responsible and affordable. I couldn't have asked for anything better! Thanks Em's Cakes and Confections!

Gail K.

1 year ago

Quality of Service (5.0/5)

I've seen Em's cakes for weddings, and had her cakes for special occasions. Emily has a passion for baking and a special knack for combining new and delicious combinations of flavors!! Only the freshest ingredients, yummy, delicious and beautiful to look at too!! They're special, one of a kind cakes, that your guests will be delighted with!!! The Mississippi Mud Pie (cake) melts in your mouth!

Vivienne

1 year ago

Quality of Service (5.0/5)

Em's Cakes and Confections are terrific. Over the past handful of years, I have had many a cake and confection -- and all are delicious -- from Mississippi mud pie to cupcakes to sachertorte! Recently, I had a 50th birthday party for my husband and ordered two sachertortes from Em's Cakes and Confections, and my husband plays guitar, so Em's put a guitar on top! They were delicious and made of the freshest ingredients. Our guests wanted seconds!

Em's uses real ingredients. Em's cakes and confections have the individual personalities (taste, looks) that I would make if I had time and talent to do at home. Em's cakes and confections never feel mass produced/institutional like so many bakers' products.

I look forward to my next Em's Cakes and Confections treat.
---
FAQs
Are there any additional services you provide?
- Cakes, pies, tarts, candies and confections
- Dessert tables/buffets
- Edible favors
- Silk or real floral decoration for your cake
- Calligraphy notation cards indicating cake, filling, frosting, dessert flavors to enhance the experience for your guests
Can you provide references upon request?
Yes
Do you require a deposit beforehand?
Yes
How far in advance should clients book your services?
2 months, but a longer lead time (3-4 months) is expected for custom orders. Em's will do 'last-minute' orders if time permits, but can't guarantee availability - but just ask, we may have a space for you!
What languages do you speak?
English
What cake styles do you provide?
Em's specializes in tiered layer cakes (round or square) in various sizes to accommodate any number of guests. We also love putting together dessert tables/buffets with an assortment of delicious desserts (cakes, pies, tarts, candies and confections - you decide!)...and we do edible favors. Em's style can be described as rustic, botanic, woodland, feathers, ferns, natural, wild, bohemian, floral - having said that though, we will certainly work with you to customize a style and look you love. We do buttercream frosting (because it tastes amazing!) and have a wide array of delicious flavor combinations to create something you and your guests will love!
Do you provide cake toppers and other decoration?
I can provide certain types of florals for decoration or am happy to work with your florist to provide a 'canvas' for them to create floral decorations for your cake.
Are you willing to work with custom cake designs?
Yes, definitely! ...as well as custom cake flavors.
Which dietary restrictions can you accommodate?
Gluten Free
Do you provide delivery to the wedding location?
Yes, depending on location we can work out an appropriate delivery cost and time frame.
What are your alternative dessert options?
Dessert Buffet, Cupcakes, Groom's Cake, Pastries