proposals
Cozmik Photography LLC
9412 Longmeadow Circle, Boynton Beach, FL 33436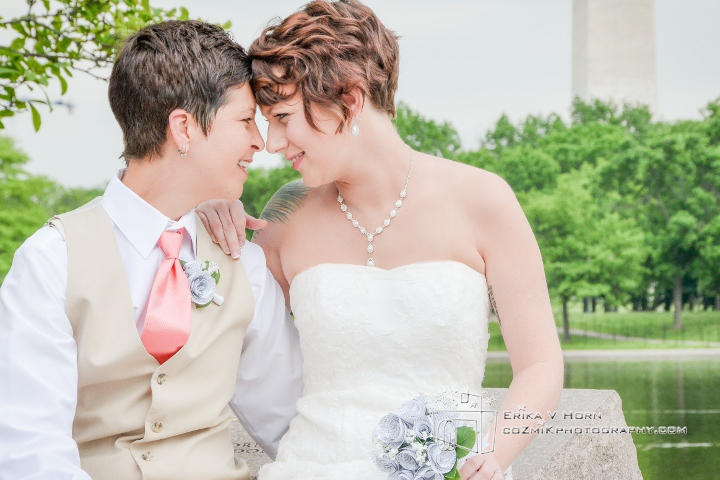 Wedding Themes & Styles

- Cozmik Photography LLC
Erika, a.k.a. "Cozmik" is a lifelong visual artist and photographer from Washington DC - and now calls South Florida her Home. Her specialties are Offbeat, Unique Weddings & Documentary Wedding Photography, Music, Event, Estate, Commercial Photography. She owns and runs a very successful freelance photography business and regularly contributes to publica...
Erika, a.k.a. "Cozmik" is a lifelong visual artist and photographer from Washington DC - and now calls South Florida her Home. Her specialties are Offbeat, Unique Weddings & Documentary Wedding Photography, Music, Event, Estate, Commercial Photography. She owns and runs a very successful freelance photography business and regularly contributes to publications such as OnTap Magazine (events & music), CosmicVibesLive.com (music photographer & journalist) as well as The Vinyl District Nationwide and Red Bull Music Academy (Music & Concert Photographer.)

A graduate of LaReine CHS in 1991 with an Art Scholarship to Frostburg State University, 6 years of Photography, Graphic Design and Business studies at FSU, the Corcoran School of Art & Design and the Washington School of Photography, where she graduated in 2002, Erika's formal education in the Field of Photography combined with her Natural Talent has definitely made her visual voice known in the DC/NY/FL scene over the years, shooting hundreds of unique weddings and being one of the most sought-after Lifestyle and Music photographers in 5 states.
All this AND her wedding rates start at only $500...
Erika takes great pride and enjoyment in working with all couples from all walks of life, and voices her opinion on the clients that choose her over so many other photographers.
"In today's climate where everyone has a smartphone or bought a 'nice camera' on sale at Best Buy, it's been concerning to see couples choose Uncle Bob, that family friend or that photographer they found on Facebook with appealing Dollar Menu prices. I've been blessed, though, the clients I've attracted through the years truly value their memories, they recognize quality and they're intelligent with their money. They know that choosing a photographer isn't the same as shopping for a car - they know every photographer is unique, and they're looking for 'The One' who they know they can trust their life's most important memories to, who is experienced, fun and versatile, who will be easy to work with and not get in the way of their day (or cut their guests heads off). My clients really are the most amazing couples on the planet. They trust me, and I take that trust seriously."
Many clients have noted that Erika's combined love and passion for Music Photography is actually what makes her style stand out from other standard wedding photographers (who stay inside the weddings-only bubble); she has a quick eye for fleeting moments and details that many would miss, having spent countless hours and days covering fast-moving musicians to capture that one perfect shot where their personality shines, garnering her published work in Guitar Player Magazine, The Washington Post and Relix Magazine. Anticipating moments is her specialty.

Having managed a thriving one-woman photography business in the Nation's Capital since 2007, she is highly revered in the LGBT Community being one of the few wedding photographers that has worked with over 150 couples who have traveled far to become legally wed in DC since 2010, providing affordable pricing and award-winning images, working with several celebrants exclusively in the area and as preferred wedding photographer for RingInLove.com, MarriageDC.com and OffBeatBride.com. And now with Nationwide Marriage Equality, she is greatly anticipating her future work with many more amazing couples in Florida & beyond, where she will no doubt be a part of the visual voice of the LGBTQmunity for many years to come, just as she was in our Nation's Capitol.
A MOMENT....
"There was this one couple, lovely Ladies from South Carolina. They traveled all alone to DC to be married, and on their wedding day it was them, me, and Rev. Bonnie, the ceremony was in their hotel room. Afterwards, I took them outside to the canal for some portraits, and they were very nervous. They expressed to me that showing affestion in public was not acceptabel where they were from, and I made them hold hands as they walked, telling them not to worry. They did it, but kept looking around nervously. Before we started shooting at the canal, a jogger ran by and yelled, 'CONGRATS! YOU LOOK BEAUTIFUL!' and they were shocked. I said 'SEE??? There's love here for you two!" After the canal shots I decided to push the boundaries, and I walked them back up to M Street on the busiest corner I could find, and I stood them under the street sign together as I ran out into the middle of the intersection. I had so much happiness in my heart seeing EVERY single person who passed them congratulate them and tell them they were amazing and beautiful. They started crying they were so overwhelmed, and that's when I began shooting. My couple was floored with all the love they felt from everyone, and we all shared a tearful hug as they thanked me profusely. I then told them 'when you go out to dinner tonight I want you to stay in your wedding dress and tux - take in ALL the love here and take it back with you to South Carolina, and every time you feel you can't express your love, do it anyway because the world loves you.' I will never forget that day.....It's one of the reasons I do what I do."
As a documentary wedding photographer, Erika's reputation for not "posing" couples awkwardly but allowing them to be natural with each other, capturing candid laughter, glances, and the innumerous other fleeting moments during a couples' special day has won over many clients who seek a more personal yet unobtrusive approach when it comes to weddings. She believes in catering to each couple's individual personalities when it comes to their Special day, "Each wedding is absolutely unique, and has its own 'flow.' I enjoy being trusted with capturing this flow, remaining out of the way while still leading my couples' day with ease, so they can just be themselves and enjoy every moment with their loved ones."
"What I offer is something very unique in the "wedding photography industry" - first, I don't treat it as such. I offer a much more creative and personal experience, providing artistry and consistency, creating and capturing moments catered to each couples' personality individually - something most all photo companies cannot provide. Someone lacking in experience also cannot provide this, regardless of what they spent on "professional gear." My talents are catered to QUALITY not quantity. I never "spray & pray" - I take the time before I click the shutter to make sure every moment is well-composed and correctly exposed, but since I've been doing this for so long it takes less than a second. (I shot film for decades before going digital - not many photogs today can say that. And I still shoot film today.) I am dedicated to providing my clients with the most unique memories of their day - captured by someone who cares about their memories and who cares about Art. You can't re-do your wedding photos, who you trust with your day is so important, and I am blessed and honored when couples choose to put their trust in me."

A lifelong Visual Artist, dual business owner, shooting for almost 3 amazing decades, Erika is most definitely a strong female force to be reckoned with, with a huge heart and a visual voice ready to be heard world-wide. Her clients and colleagues agree. Unafraid to climb, crawl, jump or throw a stiff elbow - Cozmik Girl ALWAYS get the shot.
Do right by your memories and your wallet.
Get Shot by an Artist.
---
Packages

- Cozmik Photography LLC
2016 SOUTH FLORIDA WEDDING SPECIAL:
Any 6+ hour 2016 coverage package booked by August 30th receives 15% off or FREE digital image files w/ personal printing rights (up to $125 value)
2016 LGBT WEDDING SPECIAL:
$50 off any Rainbow Promise (2 hour) package (LGBT Couples only please)
2017 SOUTH FLORIDA AREA WEDDING SPECIAL:
Any 2017 7+ hour coverage package booked by July 1st receives 15% off or FREE digital image files (up to $150 value)
I HONOR ALL MILITARY AND LAW ENFORCEMENT WITH 10% DISCOUNTS AT ALL TIMES ON ALL COVERAGE PACKAGES OF 5 HOURS OR MORE!

---
Quality of Service
(5.0 / 5.0)
Professionalism
(5.0 / 5.0)
100% by couples who reviewed
Jim Merritt 2 years ago
Quality of Service
(5.0 / 5)
Professionalism
(5.0 / 5)
We received the best professional service available. No drama, no complications, simply delightful to work with. Every picture is a gem which we still enjoy. If I were getting married or hosting another significant event, I would choose Cozmik without hesitation.
Amy Ruiz 2 years ago
Quality of Service
(5.0 / 5)
Professionalism
(5.0 / 5)
Erika was not only extremely friendly, prompt, and professional, but she also cares so much about her clients that she will do whatever it takes to get the BEST shots and provide the BEST service. We looked at the websites of countless photographers and narrowed it down to one: Cozmik Photography! Erika's work speaks for itself and the quality and affordability really cannot be beat. Everyone who has seen our pictures is in absolute awe of them -- all thanks to Cozmik Photography! We highly recommend Erika for ALL of your photography needs!! 6 out of 5 stars!!
Amy S 4 years ago
Quality of Service
(5.0 / 5)
Professionalism
(5.0 / 5)
We used Erika for our wedding pictures two years ago. We were married out of state and didn't know anyone. Our reverend recommended Erika and boy were we glad that she did! Erika was very professional, easy going and made us feel comfortable. We love our pictures and highly recommend her!
---
Cozmik Photography LLC 4 years ago
Woopsie, lol! Thank you Amy and JENNIFER!!! This is what happens when I get too busy :-P
---
FAQs

- Cozmik Photography LLC
Are there any additional services you provide?
From first contact to delivery of your memories, I handle everything - no assistants or editing interns. As an Artist I see everything through from beginning to end to ensure it's done right!
**FREE 45 minute Consultations in person OR via Skype
Can you provide references upon request?
Yes
Do you have liability insurance?
Yes
Do you require a deposit beforehand?
Yes
How far in advance should clients book your services?
I am very flexible and realize that sometimes the photographer is the last puzzle piece, clients may book with me as far out as they wish and as close as 1 week or less, provided of course I have availability.
What languages do you speak?
English, fluent German
How many photographers do you provide?
Myself. I do have an experienced and respected colleague who I have brought along to 2nd.
What style of photography do you practice?
Contemporary, Portraiture, Photojournalism
What is included in your packages?
- Attendance - continuous coverage - all post-production/general retouching - 1 private password-protected client gallery with only the best edited images in full resolution for viewing, sharing and ordering the highest quality prints and products directly - 10 web-resolution highlight images for online sharing and posting in social media pages delivered via online shared client cloud folder - personal service throughout our professional relationship. *Travel is usually included in all local packages. * Digital files in mid-resolution for personal printing and album needs may also be added to any package.
What format are the proofs offered in?
Final images in Private Password protected gallery. Clients order the highest quality professional prints, photo bundles and products directly from their gallery.
Are images available for viewing online?
yes
Do you charge for travel expenses? How much?
When not included in one of my packages or if the wedding is out-of-state: $25 per half hour/25 miles, travel/accommodations additional to coverage investment.
Additional details:
As an Artist I always encourage my clients to explore their own creative side, so if they would like to design their own album I find that the digital image files delivered via client cloud folder help them create something special for themselves - but I do offer fully customized photo book and album design as well.