proposals
Latinobazaar Enterprises
Box 15145, Tucson, AZ 85708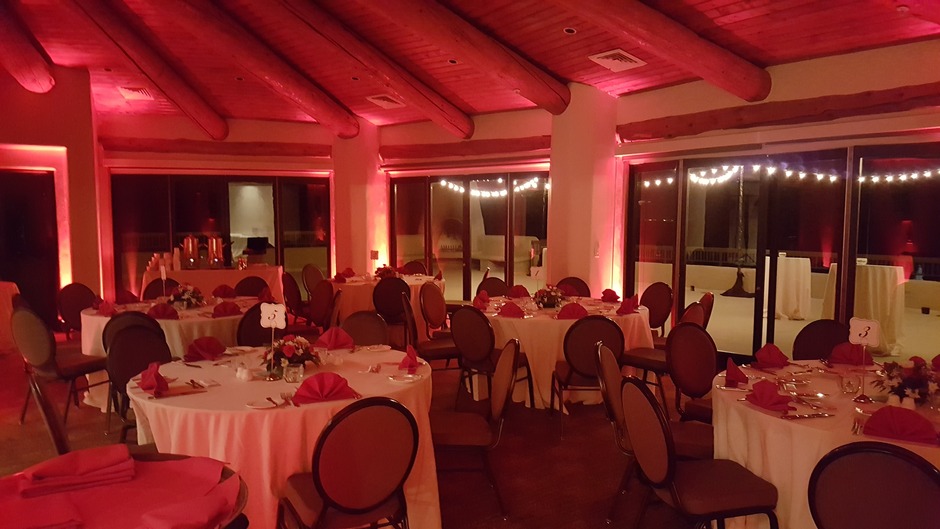 Wedding Themes & Styles

- Latinobazaar Enterprises
With Latinobazaar Enterprises' Top Level Wedding DJ Service you will receive the most professional and dependable DeeJay / Emcee / Karaoke service at the most reasonable price! Top Level DJ Service will provide the experience and dependability you expect, along with the professionalism you deserve from a DeeJay / Emcee. Latinobazaar Enterprises wedding DeeJa...
With Latinobazaar Enterprises' Top Level Wedding DJ Service you will receive the most professional and dependable DeeJay / Emcee / Karaoke service at the most reasonable price! Top Level DJ Service will provide the experience and dependability you expect, along with the professionalism you deserve from a DeeJay / Emcee.
Latinobazaar Enterprises wedding DeeJay and Emcee service looks at weddings as three events, thus planning carefully for each. First event of the wedding is the wedding ceremony. For the ceremony Latinobazaar Enterprises setup a sound system at the ceremony location. Also microphones are available for the person conducting the ceremony as well as for the bride and groom/bride and bride/groom and groom. With the ability to "MIC" everyone it is possible to have background music during the ceremony. Speaking of music, the music starts 30 to 45 minutes prior to the scheduled start time of the ceremony.
The second wedding event is the wedding reception which start immediately after everyone exits the ceremony area. At the wedding reception's meet and greet or cocktail hour there will be a sound system setup so guests may enjoy music while the bridal party members are taking photos. In many cases the meet and greet/cocktail hour is not in the same room/area as the second part of the wedding reception.
Once the photo session is complete the Emcee will have the guests enter the main reception room/area. This is where the third part of the wedding reception take place. Once guests are seated I will start the grand entrance of the bridal party into the reception room/area by announcing each person of the bridal party. Throughout the wedding reception I will maintain a high level of energy in the room by creating various activities (these activities are decided upon during the planning stages) to do during this part of the reception. Once all of the activities of the wedding reception are completed we transition to the third part of the wedding, the wedding party.
During the wedding party the DeeJay converts the wedding reception room/area to a party location using lighting and music.
For your wedding event you will receive an experienced, entertaining, appropriately dressed and personal DeeJay who will Emcee and control the flow of your wedding (as mentioned above) while, playing all of your favorite music from our limitless collection! Top Level DJ Services will work closely with you to develop a customized detailed music entertainment planner for wedding that will contain every thing that will take place at your wedding, meanwhile always offering free emcee duties, free face to face consultations, and free all access to a huge extensive category of music which includes all genres! At your wedding event (if you desire) I will take request from your guests. Requested songs are vetted to ensure they are wedding friendly and not on the no play list.
Top Level DJ Services having performed at hundreds of weddings wants to make your wedding a success. Latinobazaar Enterprises also provides DeeJay and Emcee for events such as Sweet 16, School Functions, School Dances, Grand Openings, LGBT Event, Middle Eastern, Bolly and/or Nollywood, Quinceaneras, corporate parties, Holiday Parties, Birthday Parties, a small social gathering, unlisted parties, or a street party with 500 people. Let Latinobazaar Enterprises' Top Level DJ Service will bring the party to you.
Top Level DJ Services uses high quality sound reinforcement gear scalable to accommodate 20 people to 500 people. And with over 50 LED and Laser lights, the lighting system will light up your party.
To ensure availability book early.
---
Packages

- Latinobazaar Enterprises
Latinobazaar Enterprises only offers two options for weddings. Latinobazaar Enterprises, for the most part, charges $799 for the following setup: https://youtu.be/GgdLW_-RrrM because this is the most commonly requested setup (for reception room/area - lighting, video, and sound only). When less is needed clients select the $599 option which removes the up lighting and the moving head lighting. Dance floor lighting, video, and sound remain.
Please note: All photos and videos were taken with a Samsung Galaxy Note 5 or 8. Photos are original and unedited. The reason for this: when a customer sees a photo and decides they want their venue space to look like my photo, I can recreate that look exactly as in the photo. If the photos have been edited it will not be possible to recreate the same look in real life. Several customers have told me "your lighting is just like the photo."
---
Quality of Service
(5.0 / 5.0)
Professionalism
(5.0 / 5.0)
0% by couples who reviewed
Jenna 1 year ago
Quality of Service
(5.0 / 5)
Professionalism
(5.0 / 5)
Tim helped make our wedding perfect! He was so helpful from our very first meeting and I am so happy that we found him and he provided DJ services for us. We could tell right away that he is extremely passionate about what he does and he's a true professional. He had some awesome ideas that made all of our guest have an even better time. I will continue to recommend him to everyone I know and use him in the future whenever I can. Thank you so much!
---
Latinobazaar Enterprises 1 year ago
Thank you Jenna! It was a pleasure to be a significant part of one of your most important lifetime events. Also I look forward to your future events. Thank you, Tim Jones
---
FAQs

- Latinobazaar Enterprises
Are there any additional services you provide?
Latinobazaar Enterprises provides the following services:

Ballroom Lighting
Dance Floor Lighting
DeeJay and Emcee Service
The "Karaoke Experience" Karaoke Service
Live Sound for Bands and Groups
With additional services becoming available soon
Can you provide references upon request?
Yes
Do you have liability insurance?
Yes
Do you require a deposit beforehand?
Yes
How far in advance should clients book your services?
As soon as you know the date as I typically get booked 6 to 12 months out.
What languages do you speak?
This is where my service differs from other DJ services. Since I have MC/DJ'ed wedding for: Korean, Chinese, Vietnamese, Palestinian, Turkish, Italian, Irish, Armenian, Romanian, Greek, French, Jamaican, various African countries, Mexican, Latin, and others I come to know learning key words and phrases needed (if I don't already know) to convey my messages is important to ensure outstanding entertainment. Additionally, client welcome the effort given to learn their language.
How many hours of service do you provide?
Once the client and myself agree on a price, which is a flat fee, there is technically no limit to how many hours (within reason) since weddings last about six to eight hours. But there is the occasional 12 hour wedding event. If a wedding last that long the DJ must be doing an outstanding job. Please note: although most weddings last six to eight hours I spend 12 to 16 hours preparing for each wedding.
What type of music do you play?
50s, Country, Orchestra, 60s, Dance, Pop, 70s, Folk, Punk, Rock, 80s, Funk, R&B, 90s, Gospel, Rock, Acoustic, Hip Hop, Soul, Big Band, Jazz, Strings, Classic Rock, Motown, Swing, Classical, Oldies, World
Do you provide MC services?
yes
Do you provide any bi-lingual or cultural services?
yes