SK Media
8020 S Rainbow Blvd Suite 100-223, Las Vegas, NV 89139
5 Reviews : Review Me

Media

Video
David & Linda's Wedding Highlight
Johnedil & Megan's Wedding Highlight
Chad & Le Anna's Wedding Highlight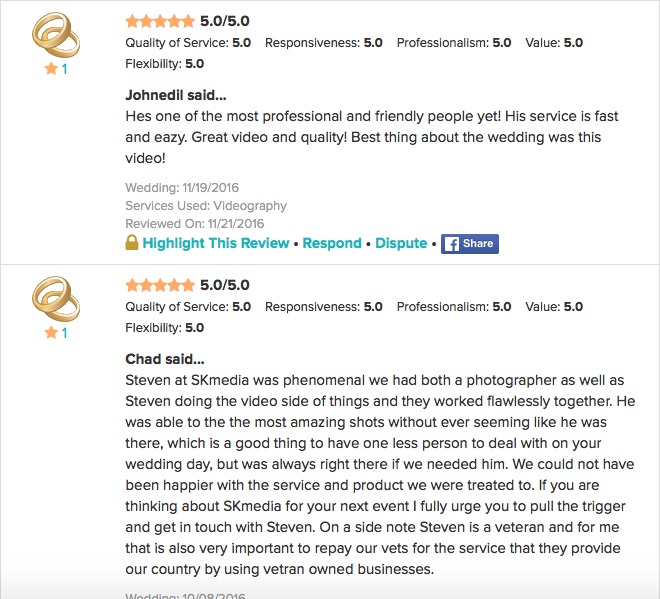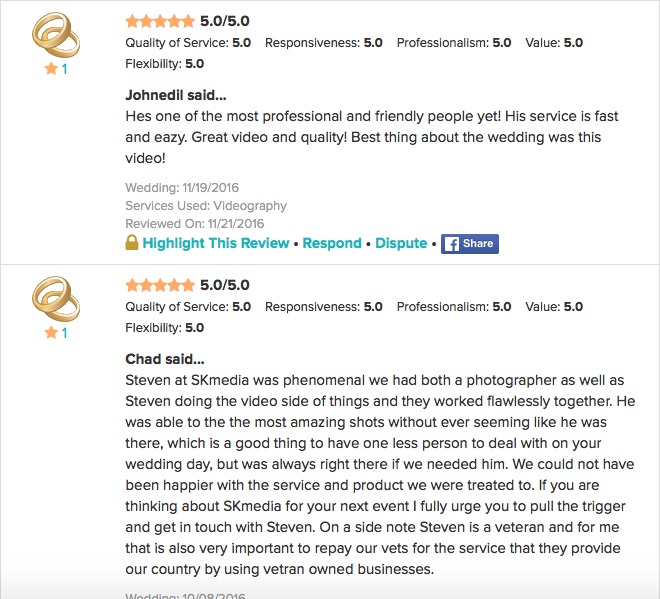 Our Wedding Themes & Styles
– Exclusively 4K –
Your wedding video will be filmed and edited in the highest quality video available. 4K Pixel Resolution is 4x the quality of Standard HD.
Packages

Love Story $799.00. 6 HRS
This package contains:
Separate interviews from the Bride and Groom
Special messages from friends and family can be included
Video will be played at the reception
Cinematographer Bronze $999.00 6 HRS
This package contains:
3-5 Minute Cinematic Highlight Video
Full Length Ceremony
Full Length Toasts and Speeches
Hard Drive with Raw Footage
Cinematographer Silver $1499.00. 8 HRS
This package contains:
3-5 Minute Cinematic Highlight Video
8-12 Minute Feature Film
Full Length Ceremony
Full Length Toasts and Speeches
Hard Drive with Raw Footage
Cinematographer Gold $2,199.00 12 Hrs
This package contains:
2 Cinematographers
3-5 Minute Cinematic Highlight Video
10-12 Minute Feature Film
Full Length Toasts and Speeches
Full Length Ceremony
Rehearsal Day Coverage
Next-Week Highlight Film Edit
Hard Drive with Raw Footage
Reviews

Rating Summary
Quality of Service (5.0/5)
Recommended
100%
by couples who reviewed
User Reviews
Linda Nguyen

1 week ago

Quality of Service (5.0/5)

Completely in love with Steven's work, professionalism, flexibility, personality, overall AMAZING!!!!! I would not change a single thing about my experience with him and honestly would recommend him for ALL types of videography not just weddings he is so talented, well priced and honestly I am a hard to please person but I was truly impressed with everything he has to offer!

Wedding video: the end result of his work shows his passion. My wedding looked even better through his eyes than I had even imagined. He was able to do aerial shots of the ground, the ocean, and even caught dolphins that day. He got a scenic drone shot of our wedding car driving off into the sunset! I mean honestly, it looked like a car commercial it was so good.

Flexibility: obviously the wedding day comes with a lot of bumps in the road but he not only adapted well to the changes but also kept me calm and did whatever to make me feel comfortable. I barely interacted with him during the day and was afraid I didn't instruct him enough but his experience with weddings had shone through and he did a fantastic job getting all the necessary shots without me even noticing or asking him to!

Overall experience: I would recommend him to everyone for every type of video, he is experienced with so much potential to grow and make each video unique and special. His rates are among the lowest I have seen and his passion for his job makes him flexible to bend his packages to fit everyone's budget. I never thought I needed or wanted a video and after the wedding that is the one thing I love the absolute most!

Thank you Steven for your amazing stress free personality, encouraging supportive nature, and passion and talent for your videos! I truly enjoyed working with you and wish you the very best of luck!

David and Linda Powell

Johnedil little

1 month ago

Quality of Service (5.0/5)

Best person to work with! Very professional and easy to work with

Brandon Wilcox

1 month ago

Quality of Service (5.0/5)

We've worked with SK Media several times and they are always a pleasure to work with. It's obvious they enjoy what they do!

Megan

1 month ago

Quality of Service (5.0/5)

Words cannot even express the appreciation and gratitude I have for SK Media. The video brought both my husband and I to tears the first time we saw it. It captured every part of the wedding that was magical, and I didn't even tell him what I wanted captured! Steven was there for every part of the wedding day process, from filming the signing of our wedding license, to my girls and I getting ready, my husband with his groomsmen, all the way up to the very end of my wedding. Steven was very easy to work with and made the experience very memorable and easy. The video and sound quality of the video is amazingly crystal clear. I am still in awe of how he made something so beautiful out of clips of video. We are forever grateful to SK Media for allowing us to show our future children how beautiful our wedding day was and how much love was there. Thank you SK Media.

Johnedil and Megan Little

Chad Chebbi

1 month ago

Quality of Service (5.0/5)

I was recently married and had sk media and steven as my videographer. I could not be happier with the service we received. Steven was so professional but in a very polight and friendly way. He was able to get amazing video and I cant even remember a time we saw him (which is a good thing). The price was very very good and like i said we couldnt be happier. Steven is also a veteran and that holds alot of water with me. I choose to support vets when I can. So if you want a very driven and professional videographer sk media should be your first choice
FAQs

Company Details
Contact Name:
Steven Koonce
Are there any additional services you provide?
I also provide love stories for our newlyweds.
Can you provide references upon request?
Yes
Do you have liability insurance?
Yes
Do you require a deposit beforehand?
Yes
How far in advance should clients book your services?
Im very flexible and can be contacted 24 hours in advance. but ideally a good time frame would be months ahead.
What languages do you speak?
English
FREQUENTLY ASKED QUESTIONS
FAQ
How many videographers will be at the event?
Depending on the package you choose.
What style of videos do you offer?
Cinematic, Short Form, Traditional, Storytelling
What is included in your packages?
for package information you can visit skmediaproductions.com
Do you charge for travel expenses? How much?
Out of state traveling expenses will apply for room and board, and travel.
Additional details:
Every package includes a hard drive with all Raw Footage.