proposals
Reverend Jon Turino
15009 NE Siskiyou Ct, Portland, OR 97230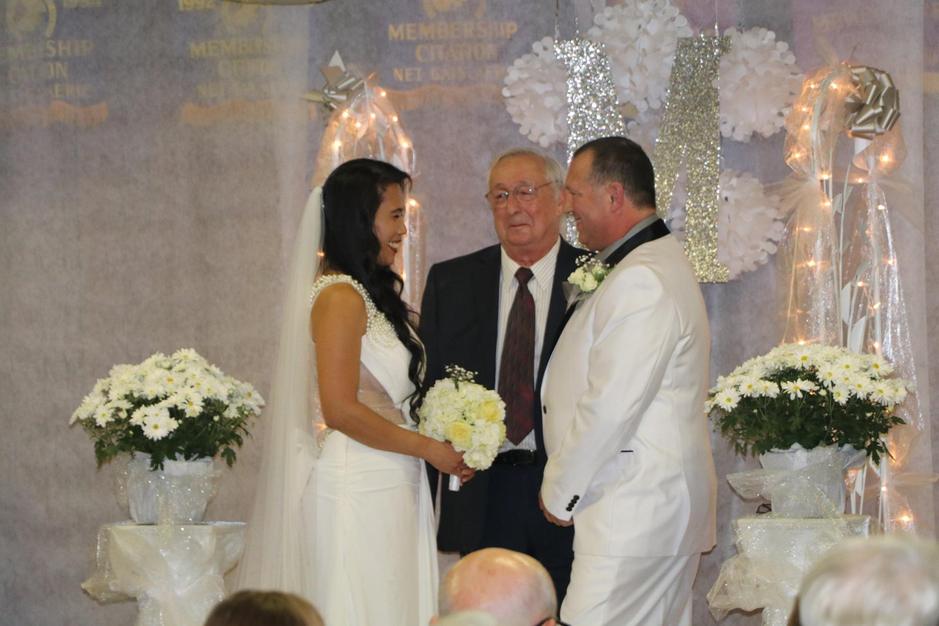 Wedding Themes & Styles

- Reverend Jon Turino
You can get an up-front planning session, ongoing consults, questionnaires and planning sheets and a fully tailored script for your ceremony for a very competitive and affordable price. Plus I arrive early to make sure that everything will go smoothly and can arrange prior (at extra cost) rehearsals/run-throughs. I'd love to marry you!
---
Packages

- Reverend Jon Turino
I've created fillable forms for many of the important elements of a smooth, successful ceremony. You can see some of them on my Facebook page at https://www.facebook.com/weddingofficiantjonturino/ and I supply additional information and forms when you book me to perform your ceremony.
I also create a customized script that can include Christian or non-religious readings of your choice, ring blessing, hand binding, sand or unity candle elements and virtually any other feature that you'd like to have included on your special day.
A quick standard ceremony only can be done for only $150. Pricing in the Portland/Vancouver Metro Areas is normally $200 for the ceremony, up-front consults and vows customization. If you need a prior day rehearsal that is typically an additional $100. Please contact me for pricing for locations outside the Portland/Vancouver Metro Areas.
Please visit my website at http://yourminister.org for more information, email me at jonturino@gmail.com or call me at 503-877-4609.
I'd Love to Marry You!
---
Quality of Service
(5.0 / 5.0)
Professionalism
(5.0 / 5.0)
100% by couples who reviewed
Paul 7 months ago
Quality of Service
(5.0 / 5)
Professionalism
(5.0 / 5)
Jon was absolutely the perfect officiant for our perfect day. We can't imagine what it would have been like without him. From the start, he was so great about communication and answering all of our (many) questions. After we picked him, he was always available to answer any further questions that came up (ceremony, marriage license, etc.). As for the big day, he was everything we wanted and more. He worked with us on the service script, providing a fantastic blueprint, while being open to our suggestions and changes, while also beautifully reading some personal words we had written that we did not want to speak ourselves. As an aside, when my voice started to crack from emotion while reading our vows, Jon calmly and quietly whispered to me one word, "breathe." I'll never forget that. We received so many compliments from our guests about Jon. Thank you, Mr. Turino.
---
Reverend Jon Turino 7 months ago
Thank you so much, Paul, for the glowing review. It was my pleasure working with and officiating for you and your lovely bride Caitlin.
Luda 9 months ago
Quality of Service
(5.0 / 5)
Professionalism
(5.0 / 5)
Thank you Jon for everything!! Not only were you super patient and easy going with us when I forgot the marriage certificate at home and had to have someone go get it but you handled the delay with total humor and complete understanding.

The ceremony was all that we had hoped for and more, laughs and oops included.

Thank you for making our day as memorable as possible. You are a true gem!!
---
Reverend Jon Turino 8 months ago
Thank you, Luda, for the great review. It was my pleasure to be your officiant.
Mary Crowe 9 months ago
Quality of Service
(5.0 / 5)
Professionalism
(5.0 / 5)
Jon was the perfect fit for our ceremony. He is kind, witty, and very professional. He also responded to every email within 24 hours. When my husband stumbled over this line, "wafflely wedding wife", Jon quickly returned with, "want some syrup with that." It was a hit and I'm so happy we chose him!
---
Reverend Jon Turino 8 months ago
Glad I was able to add a giggle or two to your ceremony, Mary. Thanks for the great review!
McKenzie Blair 9 months ago
Quality of Service
(5.0 / 5)
Professionalism
(5.0 / 5)
Jon answered all our questions and work with us every step of the way. He did an amazing job with our ceremony and couldn't be happier!!
---
Reverend Jon Turino 8 months ago
I'm very glad that you were pleased, McKenzie. It wads my pleasure.
Dana and Steve 2 years ago
Quality of Service
(5.0 / 5)
Professionalism
(5.0 / 5)
Jon was patient, followed our script, and made sure the ceremony went off without a hitch.
---
Reverend Jon Turino 2 years ago
Thank you, Dana and Steve. It was a pleasure to marry you two.
---
FAQs

- Reverend Jon Turino
Are there any additional services you provide?
I'm happy to customize scripts and vows, provide advice and share recommendations as part of my normal services.
Can you provide references upon request?
Yes
Do you have liability insurance?
No
Do you require a deposit beforehand?
Yes
How far in advance should clients book your services?
2-52 weeks
What languages do you speak?
English only
What religious/cultural affiliations do you provide services for?
Agnostic, Christian - Lutheran, Christian - Methodist, Buddhist, Christian (no denomination), Christian - Orthodox, Christian - Anglican, Christian - Presbyterian, Christian - Baptist, Christian - Catholic, Christian - Episcopalian
Do you provide or require pre-marital counseling?
no
Do you allow couples to customize parts of the ceremony if they desire?
yes
How far will you travel to perform a service?
25 miles standard, 50 miles with an extra charge for travel time and expense.
Additional details:
I provide an optional up-front phone or in-person session to make sure we get everything right in order to make your ceremony as perfect for you as possible.